Traditions
Shad festival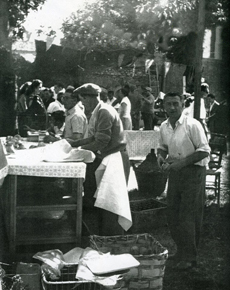 The more than a decade Sagra dell'agone take place in Germignaga at the Boschetto park the last Sunday of June. Also known as Sagra del PEscatore, originally took place the 29th of June, day of "SS. Pietro e Paolo". XVI century the fishing of agone already symbolized for Germignaga one of the main economical risources, thanks to the big profusion of this fish in the overlooking waters of our village.
The dialectal receipt of "agone in carpione"
"Se ciappa i so agon par ul cuin con duu dit, vun a vun, pian pianin, se infarinen sù ben, de sora on piatt, se scurlissen e se pucien in dul latt con riguard, de nò toeugh e dent a rostì in de l'òli ben bujent. No van tucaa fin che in croccantei e fan coeus pòch a la volta vegnen mei. Quand in còtt, tirai giò, ma con manera, per mettei drizz in d'ona insalatera. Intanta a peu tostà, in tri bun cugiaa d'òli fin, do fes d'ai, ma ben doraa, giuntagh dòò foeui de savia, un cicinin de scigòla, del pever del masnin, salai, mettegh un tazzin de asee e fall buj: des minut (in pu che assee...), infin poeu, giuntagh dent un bel cugiaa d'erborinn fresch del verd e ben ridaa e insci, bujent, voial sora i agon,. Se mangen frecc. Stan lì e in sempre bon."